New technologies have radically changed how consumers engage with brands. We, as consumers, often connect with brands via multiple touchpoints such as websites, mobile apps, ads, social networks and various services.
People hold companies to high expectations to deliver experiences that are consistent on all platforms, and to complicate it further we are more demanding than ever and expect to be able to choose freely when and how we interact with products and services.
This is transforming the economics of marketing and making many of the traditional strategies and structures obsolete. After lots of frustrating meetings and projects, we felt that few agencies and companies have a clear view of how to deal with the new media landscape. So we made a model of how we wanted to approach this:
The Brand Touchpoint Matrix is a planning tool developed by Hello Future in order to create a more understandable view of how to think and act as a brand today. It's built on the notion that every touchpoint – or interaction between the customer and the brand – has certain built-in properties that makes them more or less suitable for different things.
The horizontal axis plots touchpoints from those often experienced during shorter periods of time (and that doesn't require too much involvement from the customer) to longer term interactions and relations.
The vertical axis tell us if the touchpoint has more mass media properties (reaches lots of people) or if it's more suited for personal interactions (easier to create a personal experience).
For example, a 30 second TV spot can reach a wide audience but doesn't really create any direct value, while a local LEGO user group reach a small audience but create a strong community that give both the people involved and the company lots of value back.
(Note: the position of the touchpoints has to be analyzed individually for every brand/customer segment – the model above is an example)
The most valuable touchpoints
The most successful brands are the ones that can create true value, build a relationship with their customers and give them tools that, at the end of the day, make the brand irreplaceable. Interestingly, the touchpoints that can create these kinds of relationships, such as communities, can be found in the upper right part of the matrix.
This teaches us to provide clues and cues in every touchpoint so we entice customers toward the touchpoints in the upper right half of the model, where we find the really interesting interactions that provide value to both the customer and the company. It's in that corner that we find the value that advances a brand beyond their competitors and can create true loyalty.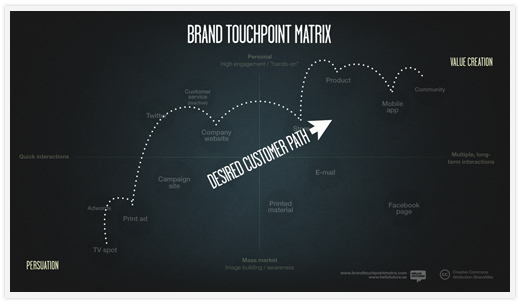 The consumer decision journey
Let's take an example of how to use this model by asking an important question for brands and marketers:
How do people make their purchase decisions? Research from McKinsey introduced a view on this called the "consumer decision journey" (CDJ) which show that customers often follow the path consider, evaluate, buy, enjoy/advocate/bond.
So what do this mean for the Brand Touchpoint Matrix? Well, in general we see that the lower half of the grid is where traditional advertising and marketing belongs (requiring skills in creating buzz with interesting and/or entertaining content), while the upper half is more about service design (requiring skills in creating value for customers).
Identifying which touchpoints that works best with the consider, evaluate, buy, enjoy/advocate/bond phases and how we can help the customer take the next step are key to a successful CDJ.
We think this explain a lot why some agencies struggle to create good value for their clients – you can't apply just marketing logic (or service logic) on every touchpoint. You have to be able to see an idea through creative, digital, social, business and design to achieve great results.
It's not about "traditional" or "digital".
It's about the experience.
What this model also tells us that it's not about "instead of", it's about "together with". It's about looking at the big picture where services, marketing, technology and products blur, because for customers these interactions are usually a means to an end, a path to a desired goal rather than the goal itself.
We're living in a cross-media world where the planning of brand experiences are key to success.
Many thanks to all the smart people that has given us feedback on this, and extra thanks to Brian Phipps for giving some invaluable input.
The contents of this site is licenced under a Creative Commons Attribution-ShareAlike Licence, which means that you can share and adapt it freely as long as you give us credit and distribute the resulting work under the same license.
Want to create a touchpoint matrix for your brand?
Hello Future help companies and organizations create cross-media strategies including social, web, and mobile. We can help you through the whole process from analysis and idea management workshops to design, development and evaluation. Read more about Hello Future.